So… how did this all get started?
Many weekends have been spent swirling glasses, sniffing bouquets, and sipping wine. Arguing about which bottle to split, how the wine at hand would pair with <insert entree>, and critiquing Yelp reviews is our form of friendly banter. So why a blog?  After spending a few days exploring the Central Virginia wine region, and visiting 8 wineries, Laura and Alex decided to start a wine blog.   Not a blog for reviews or recommendations, but a place to jot down great memories.
Over a few delicious wine flights at Early Mountain, the duo settled on the name "Love Virginia Wine" and registered the domain lovevirginia.wine.
About Alex…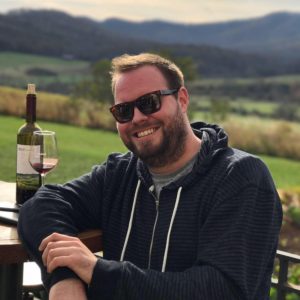 I've been visiting Virginia wineries for the last 7 years, building relationships with some excellent wine makers and in the process collecting over 200 bottles of wine.  As a result, friends are constantly asking me questions about wine and for advice on which vineyards to visit. I also happen to co-host a technology networking event in Reston Town Center called "Wine Wednesday".
My current wine club memberships include:
Past wine club memberships include:
About Laura…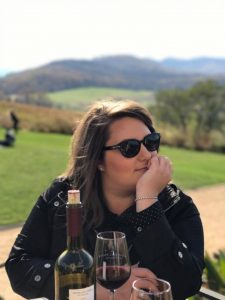 I'm not a discerning Virginia wine enthusiast of Alex's scale but I do appreciate great food, bold wines, a nice pairing, and long weekend jaunts.  I have enjoyed wine while visiting vineyards in Australia, Chile, France, South Africa, Italy, Argentina, Germany, and probably some other places that have slipped my mind, but I'm not a local Virginian and I'm eager to explore the local sights.  I tinker with modernist cuisine, container gardening, biking, and home decorating, and I can't resist a good antique shop or art gallery (although my minimalist lifestyle usually holds me back from buying too much).  If you ask me about a particular vineyard I'm likely to ramble about memories of the sweeping views, personable barn yard animals, crackling fire pits, soft leather couches, lush gardens, and how the sun set in just the right way to get the perfect snapshot for Facebook. Ask Alex about the wine.
What is this blog about?
So while the name of the blog is "Love Virginia Wine", this is a lifestyle blog.  We'll cover the Virginia Wine industry, things we love to do in Virginia, places we love to stay, and if there's an outstanding bottle of wine we stumble upon, perhaps there will even be a post about it.
We're not going to pretend we're sommeliers, but we'll provide honest feedback about what we think about the wines and the experiences. We hope you enjoy!