… wine blogs and (choose your favorite, e.g. Yelp, TridAdvisor, etc.) review site are always a funny read for me.  I love them, and almost always consult those sites before a visit.  Sometimes it's easy to see through the biases of those who want a quiet romantic vineyard but end up at a family friendly venue, or those who want a balanced selection of wine and go to a vineyard to has only big bold reds.  No review of ours should stop you from visiting and forming your own views.  Life is about experiences and we encourage those.  Our least favored site might end up your neighborhood gem.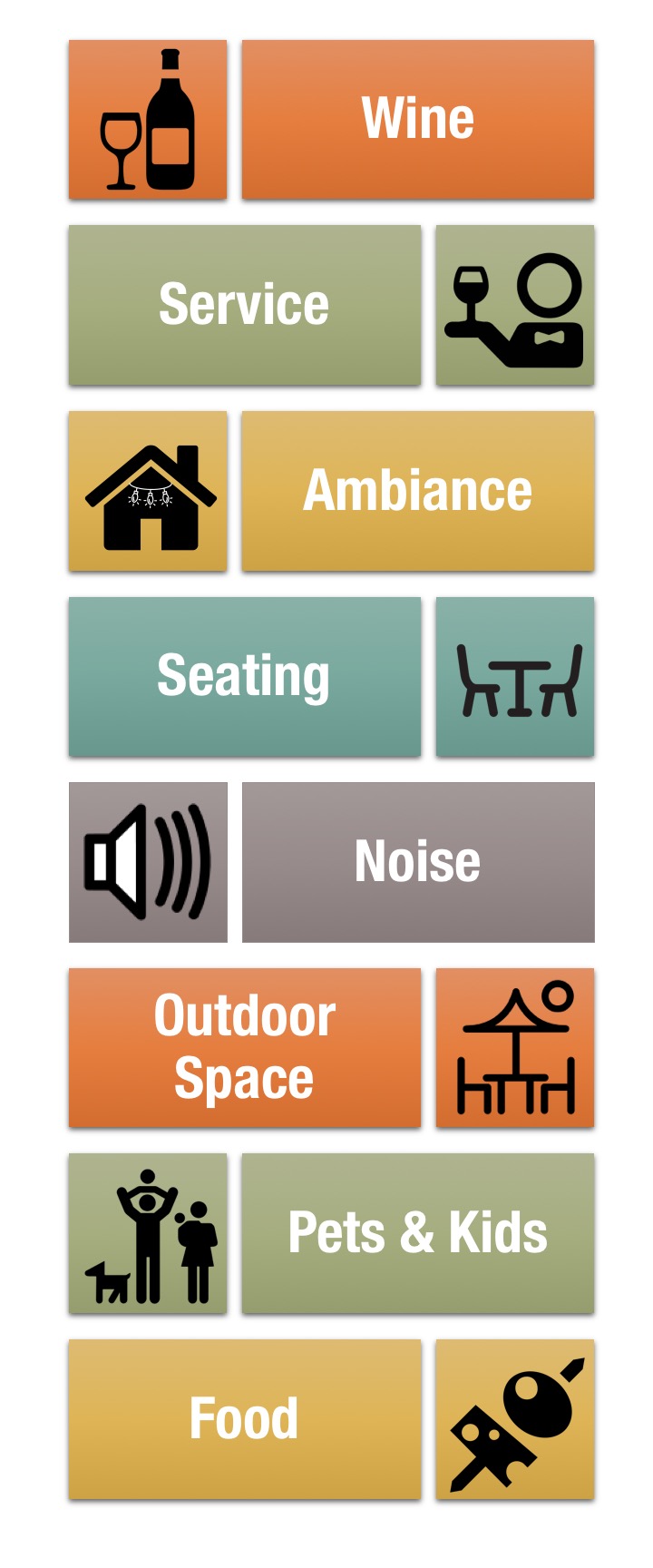 I'm an evaluator and engineer by trade, and realized that our discussions are frequently broken down into a select set of criteria.  You'll note at quick glance, that only one dimension, for me, is the wine.  If the wine were the only factor, I'd never leave my couch and I'd have bottles Fedex'd to me. That's not the case.  A major part of *my* Virginia wine experience, is the ambiance, the venue, the ability to convene with friends, and the lifestyle.
I identify eight elements that contribute to my experience. This list may grow, consolidate, evolve, or simply change over time but it this is where I'm starting.  The current criteria list includes:
WINE: Is there a standout product? Are there a variety of options? Are the wines balanced? How is the price point? Are they unique to the area?
SERVICE: Was there adequate staff? Were they friendly? Were they knowledgeable? Did they find the right person to answer your questions if they didn't know the answer?
AMBIANCE: How did the place "feel"? Was it modern and airy? Open and minimalist? Cozy and romantic? Historic and charming?
SEATING: Was there bar seating? Were there couches? Was there a variety of seating? Were there tables to enjoy your picnic basket? Was it crowded? Spacious?
NOISE: How is the venue designed for noise?  Is it one open space? Does noise travel? When it's busy, is it loud?
OUTDOOR SPACE: When it's a nice sunny day in Virginia, does the venue have space outside to enjoy the wine?  Are there chairs? Tables? Tables with umbrellas?  Are there couches in the shade?  Are there water features, great sweeping views of the mountains or vines?
PETS & KIDS: Are they allowed? Are the rules enforced? Does it distract from the experience? Are there designated areas?
FOOD: Does the venue allow outside food? Does the venue offer food? How is the food, if offered?
…so that's it.  That's what I tend to consider in looking at a Virginia winery. Did we miss anything?
Look forward to this type of categorical evaluation in our future reviews!