Barren Ridge Vineyards
Barren Ridge Vineyards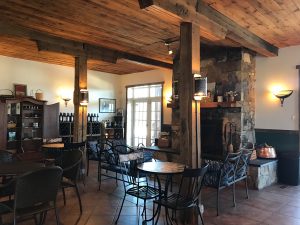 Alex and I took a weekend trip to The Greenbrier in White Sulfur Springs, West Virginia in early April and visited wineries on the return trip to break up the 3.5hr drive. Barren Ridge Vineyards was our first stop.


The wine was good.  Very friendly.  I'm not sure if that's a proper wine term but the style was drinkable with a focus on minimization of offensive characteristics.  Across the board, the outstanding features of different grapes were muted to make a wine that was approachable to all.  Viognier can sometimes be a little acidic for me, but theirs was not.  Similarly, cabernet francs are often too peppery for me but theirs had a minimal peppery notes.  The tasting menu had a range of wines from sweet to dry in both reds and whites.  Alex and I agreed on a bottle of Viognir to split on the patio.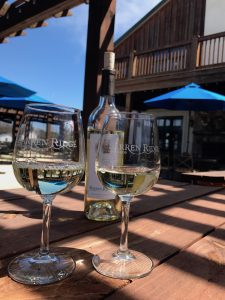 We accidentally arrived before opening but the tasting staff welcomed us anyways.  It's hard to judge how a place handles crowds when you're the only guests.  Regardless, the tasting staff was hospitable and warm.  Details about the vines and winemaking weren't really included but it's hard to judge when they weren't supposed to be open.

The tasting room was filled with repurposed wood.  Very warm, dim, and inviting.  The tasting counter was on the small side but there were views of a stone fireplace and wine barrels aging off to the side.


As mentioned, we weren't there with crowds.  We arrive before opening, and left when there were about 20 people there.  Noise was never a problem.  Acoustic music was playing throughout the indoor venue. Sadly, the music did not extend to the outside seating areas.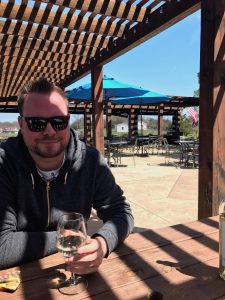 There was a great fireplace in the tasting room calling for a comfy leather couch but had to settle on a series of wrought iron tables and chairs.  There were some two person "couches" but they were more like benches with cushions. Not bad, just not somewhere I'd want to spend a cold winter day.

Not extensive outdoor space in terms of size but it hit all the marks.  While not in use because it was sunny and 70, we saw they had outdoor heaters and a stone fireplace.  Numerous picnic tables, tables with chairs, and comfortable chairs with cushions.
Lots of shaded options via umbrellas or porticos.  They even had wind screens to limit the chill on early spring or late fall days.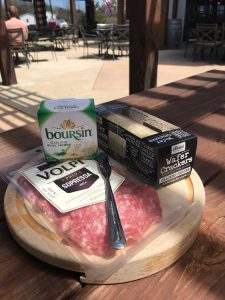 We didn't encounter any kids but we certainly saw lots of friendly dogs on the patio.  By the time we left there were four well-behaved dogs laying under the tables while their owners enjoyed wine.  The venue had water bowls out for the pooches and also an easy pet friendly a
ccess to the patio.  We didn't see any signs prohibiting kids but don't take our word.


The venue offers limited cheese and meat options but welcomes outside foods.